Our family has been blessed to have two weddings coming up in the family this Spring. Lucky us! In our family even if we aren't bridesmaids or part of the official wedding party, the family always tries to dress in the wedding colors so that we look cohesive for the family photos.
My sister-in-laws wedding's colors are navy blue and gray (like a dark, gun metal color). My brother-in-laws wedding's colors are teal, royal blue, and purple. You know what this means? I think I might want to go shopping. And I never want to go shopping. But just because it's a good excuse, and you can never have too many cute dresses, and it's pretty and Spring, it's all making me want to bust out my wallet and buy something. Here's what I've been eyeing so far (least expensive to more expensive).
This dress actually comes in this blue and teal. I think I could make the blue work for both weddings maybe? Do you think it is in between enough to work for navy and royal blue? I think I could dress them up a bit with a cardigan, tights, and jewelry. Our weddings aren't usually super formal anyways.
source
This is more royal blue. Pretty, simple, and budget friendly.
source
I love the leather ties on the side, but don't like that if I wanted to wear a cardigan (as I do almost every day) that I would cover up the cutest part of the dress.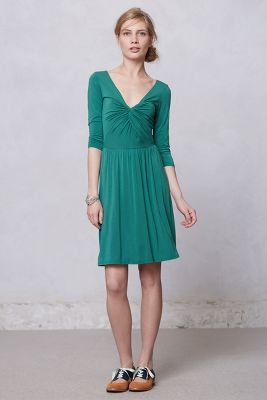 . . .and then I went crazy for
ASOS
Sadly, I don't think they have my size in a few of them (top middle, teal, and bottom right), but I would gladly take any of these dresses. I am VERY sad that they do not have the teal dress in the bottom middle. It is so very very pretty! I have never ordered from ASOS but always hear good things. Maybe I will be brave and test them out.
I think the floral navy dress could work for both weddings as well, but is it weird to wear the same dress for both? My siblings are on the same side of the family, so it's likely to be the same crowd for both weddings. It makes me think I need two different dresses.
I seriously only shop when I am just trying to spend time with friends or family and they want to go shopping. It is not something I do in my spare time, and I've been away from it for so long I feel kind of lost. Where else is a good place to go dress shopping?